Katsushika Hokusai.
How many of you know what I'm talking about? Maybe if you're an art major/minor, you do. Or, if you're just someone who's into art, you know. Or, if you're of Japanese decent, you might know as well!
Here, I'll give you a hint…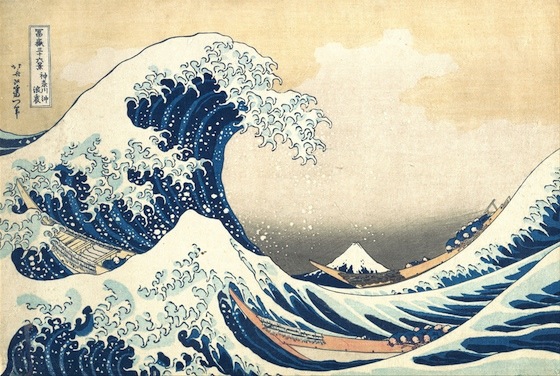 Chances are, this is more familiar to you!
Yesterday, I received a long-awaited package: a cover for my MacBook Air. I'd ordered it maybe two weeks ago, and it finally came in! After a little struggle, I was able to snap on the case, and now I have this beautiful copied piece of work displayed on the back of my laptop.
It's called Under the Wave off Kanagawa (The Great Wave).
Honestly, I've seen pictures of this wave before, and knew it was a famous art piece, but didn't know anything about it. And as I sat here thinking about what I wanted to blog about today, I looked at my laptop and thought, Maybe I should learn more about this painting.
so, I Google'd it…
The first thing I found out was that it actually isn't a painting, but a ukiyo-e, a Japanese woodblock print made in during what was apparently the Edo period. This print in particular is a polychrome (multi-colored) woodblock print, made with ink and color on paper! And this particular piece is actually a part of a series of prints that Katsushika Hokusai did back in the early 1830s entitled Thirty-six views of Mount Fuji.
So, because this print was a part of that series, Mount Fuji had to be somewhere in this piece! And I never realized it, but the site where I got the information from showed where on this particular print Mount Fuji was located on: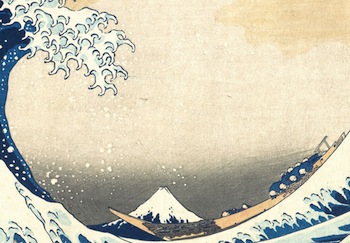 Scroll up and look at the picture as a whole now, and find where Mount Fuji is located!
look it up!
There is so much more information I could share with you guys about this piece, but I really wanted to talk about what I thought as I continued reading about it. There are many things (images, written works, etc.) that maybe many of us just take at face value. We know they're well-known, but we won't take the time to figure out why. We won't try to understand who the person was behind something that was created, we just slightly acknowledge it, and move on.
I feel like we need to be better at learning more, instead of just letting things we don't know about pass us by. We are living in the age where we have TONS of information at our fingertips, yet we only use a fraction of it on a daily basis. Why don't we use it to learn about things that maybe aren't as significant or needed in our lives?
There are a lot of things going on in people's lives, I understand this. So I know that looking up the history behind a piece of artwork or band or era may be "wasting time" to some, but truly, when I think about it SO MUCH stuff has happened in times when we weren't even born, and even now! And when we've got the technology to understand and learn, why don't we?
With the time we have right now, there's really no excuse!
So think: What's something you've been curious about? Is it a musician, a piece of artwork, an event in history, a subject / theme of the Bible? What's a question you've pondered before, but never bothered to try to find the answer to?
It doesn't have to be a skill or hobby that you need to put into practice! It can just be some more knowledge to tuck into your belt.
Mishy 🦋🤍
*Source used for The Great Wave information: https://www.khanacademy.org/humanities/ap-art-history/south-east-se-asia/japan-art/a/hokusai-under-the-wave-off-kanagawa-the-great-wave